DRIVERAdvisor is an on-board software tool to be installed inside buses, which was developed and tested on a commercial Ultra-Mobile PC (UMPC). The system aims at improving driving performance and decreasing fuel consumption and CO2 emissions.
The software package developed by Attain IT provides dynamic indications on ideal speed and acceleration to be followed to achieve the least fuel consumption. It may provide acoustic warnings for any overdeviation.
It is possible to enable the automatic delivery to a central station of early warnings of anomalous behaviors. For example, an automatic warning can be generated if the values of the acceleration and speed are detected to be unusual or not allowed.
The system architecture (1) is constituted by:
the connection through a suitable interface with the CAN bus (Control Area Network) of the vehicle to gather the signals required by the algorithms;
a GPS receiver to detect the route;
the dispatch of the data to a central station through FTP server connection via HSDPA/UMTS (if a subscription for a data SIM is foreseen) or via WiFi (if available, for example at the end of the line).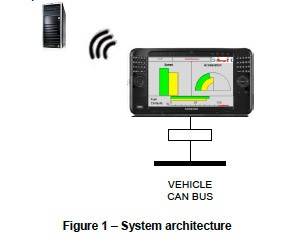 The algorithms for the optimization of the fuel consumption are based on the instantaneous estimation of the mass of the vehicle, associated with the number of passengers on-board.
Such estimation is computed by exploiting the signals coming from the CAN bus network of the vehicle. Among the available signals there are the cinematic and the control signals by means of which is possible to compute the forces to which the bus is subject to.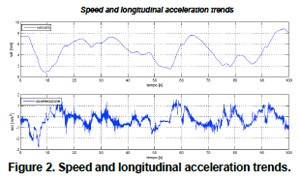 For example, the identification of the vehicle mass allows discriminating, for equal fuel consumption, between a consistent behavior with a full-load bus and an inefficient behavior with an empty bus.
The service foresees an initial configuration phase in which for each selected line Attain IT defines the ideal trends for speed and acceleration in order to achieve the minimum fuel consumption. These profiles are stored in the platform and are used to advise the driver through synthetic graphical user interface (3) along the route.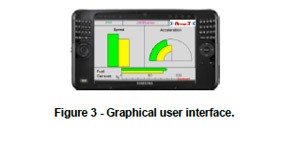 The DRIVERAdvisor system allows creating a database in a central station gathering, for each bud-line, for example, the information reported in 1.
It is of particular relevance the fact that it is possible to order the bus-lines and deserving bus-drivers according to the fuel consumption. In this way it is possible to create rankings of potential improvements and, above all, to detect the zones of the route affecting most the fuel consumption, providing useful information for a proper line-bus planning.
The mean efficiency is computed by the ratio between the ideal consumption and the real consumption along every course.
A possible future expansion of the system foresees the real-time update of the optimum profiles of speed and acceleration to be followed according to the traffic conditions and possible delays on the timetables.
Table 1 - Database in the central station
Line

P1
[lat, long]

P2
[lat, long]

Course

[h.m]

Driver ID

Depart

Time

Arriv

Time

km

Fuel Consumption [l]

Unit Consumption [l/(km kg)]

Mean Efficiency

[%]

6

7.30

1328

7.30

8.05

24

8.5

7

7.30

1023

7.30

8.20

27

10.5

4

7.32

2356

7.32

7.59

19

8

12

7.35

1012

7.35

8.01

17

7.5

…