DBM – Model Based Diagnostic
In the project "Model Based Diagnostic - Development and improvement of applications for enhancing security and reducing consumptions and emissions of motor systems", partially funded by the "POR - Regional Competitiveness and Employment Objective. Part ERDF European Regional Development Fund 2007-2013. Axis 1. Action 1.1.3" the following activities were carried out:
enhancement of technologies already owned by the company;
The design and implementation of innovative technologies applied to motorized systems
Within the enhancement of the technologies already owned by the company the following is mentioned:
The LITE version of the Fleet FCM system that is based exclusively on GPS signals thus does require to use the data coming from the data network of the vehicle. This version can be used on old generation vehicles not equipped with an OBD (On Board Diagnostic) connector, from which usually the vehicle data network and information published on it are accessed, or on vehicles that do not make available on the on-board data network all the information required for the correct functioning of the FULL version, which requires a connection to the data network.
Implementation on embedded platforms of the algorithm Anomalous Turn Detector (ATD) for the analysis of the driving style during the execution of turns and the detection in real time of possible driving irregularities at the end of the turn.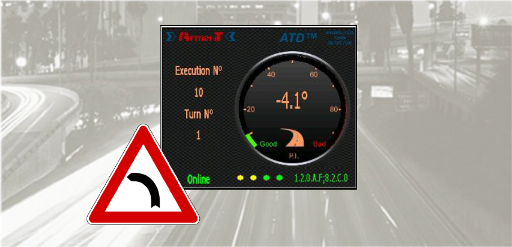 Within the design and implementation of innovative technologies the following is mentioned:
iFretta™ technology that provides the position, monitors the speed of your boat in the Lagoon of Venice and immediately alerts you if you exceed the speed limits by using the official maps of speed limits provided by concession of the "Ministry of Infrastructure and Transport - Water Magistrate of Venice - through its concessionary Consorzio Venezia Nuova. This technology has been implemented in the form of APP for smartphones running in iOS (iPhone and iPad) and Android. For both operating systems the following two versions are available:

LITE that provides position and actual speed of the boat and allows to manually display on the screen the map of the speed limits in force in the canals;
PRO that automatically compares the actual speed and the local limit, providing a real-time audible, visual and vibrating alert if an exceedance is detected.