In December 2019, Attain IT assigned this technology to S.A.T.E. LTD.
For information, contact S.A.T.E. (www.sate-italy.com) by contacting info@sate-italy.com.
In the project "MOBILITY TRACKER", partially funded by the "Regional Operational Programme (ROP) Regional competitiveness and employment objective (RCE) European Regional Development Fund (ERDF) 2007 – 2013 of the Veneto Region" Attain IT developed and implemented a monitoring system (Transportation Mode Detection, TMD) aimed at automatically determining the mode of transport used by individuals or groups, to help them change their transportation habits, for example, from the use of individual vehicles (Single Occupancy Car) to more sustainable ones.
The system architecture includes an APP for smartphones, the MOBILITY TRACKER APP, which collects data on the user mobility, storing them locally in the USER MOBILITY DATABASE and transmitting them to a remote server that collects anonymous data from all users in the COLLECTIVE MOBILITY DATABASE.
Through appropriate credentials and API (Application Programming Interface), THIRD PARTY SERVER or APP can query the MOBILITY MANAGER SERVER to retrieve information on the mobility of the population under observation.
The results show that it is possible to distinguish with sufficient accuracy between different kinds of transport modes such as, walking, cycling and motorized vehicles.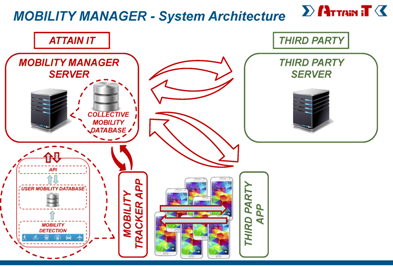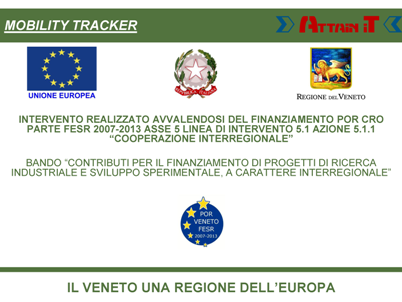 Download here below the article published in the EAI Endorsed Transactions on Ambient Systems (03 - 10 2014 | Volume 1 | Issue 4 | e7) and based on the state-of-the-art review performed during the intial phases of the project and presented in the workshop USCIAMO (Urban Sustainable, CollaboratIve and Adaptive MObility) organized within the 11th "International Conference on the Design of Cooperative Systems" (COOP 2014).
Biancat J., Brighenti C., Brighenti A., "Review of Transportation Mode Detection techniques", USCIAMO: Urban Sustainable, CollaboratIve, and Adaptive MObility Workshop at the 11th International Conference on the Design of Cooperative Systems (COOP 2014), Nice, France, 27th May 2014, published on the EAI Endorsed Transactions on Ambient Systems, 03 - 10 2014, Volume 1, Issue 4, e7 (600 KB)